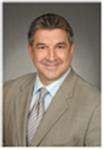 Dr. Michael Peters
During Operation Desert Shield/ Desert Storm, Michael D. Peters, M.D. served in combat as a U.S. Navy corpsman with the 1st Marine Division and Fleet Hospital-5. He obtained a B.S. degree Magna Cum Laude from Old Dominion University while on active duty at Portsmouth Naval Hospital. After completing his military service he attended medical school at SUNY Downstate - Brooklyn, N.Y.
Dr. Peters completed his Otolaryngology, Head & Neck Surgery training at the University of Minnesota in 2001, where he subsequently was honored to attend the Facial Plastic and Reconstructive Surgery Fellowship, completed in 2002. He was in private practice in Chicago for 5 years after which he started his solo practice in North Myrtle Beach for 6 years, where he performed over 5000 skin cancer procedures. He left the area for family reasons for 2 years, but has returned to resume his practice in Litte River with Coastal Carolina ENT.
Dr. Peters' philosophy of practice involves providing patients a comfortable, attentive & informative environment. He is dually board certified in Otolaryngology, Head & Neck Surgery and Facial Plastic & Reconstructive Surgery. His areas of specialization include skin cancer reconstruction, complex nasal reconstruction & rhinoplasty, facial cosmetic surgery, thyroid surgery, eyelid surgery (cosmetic & reconstructive), minimally invasive sinus surgery (balloon sinuplasty in adults and children), and Botox & facial fillers.